Honorable Mention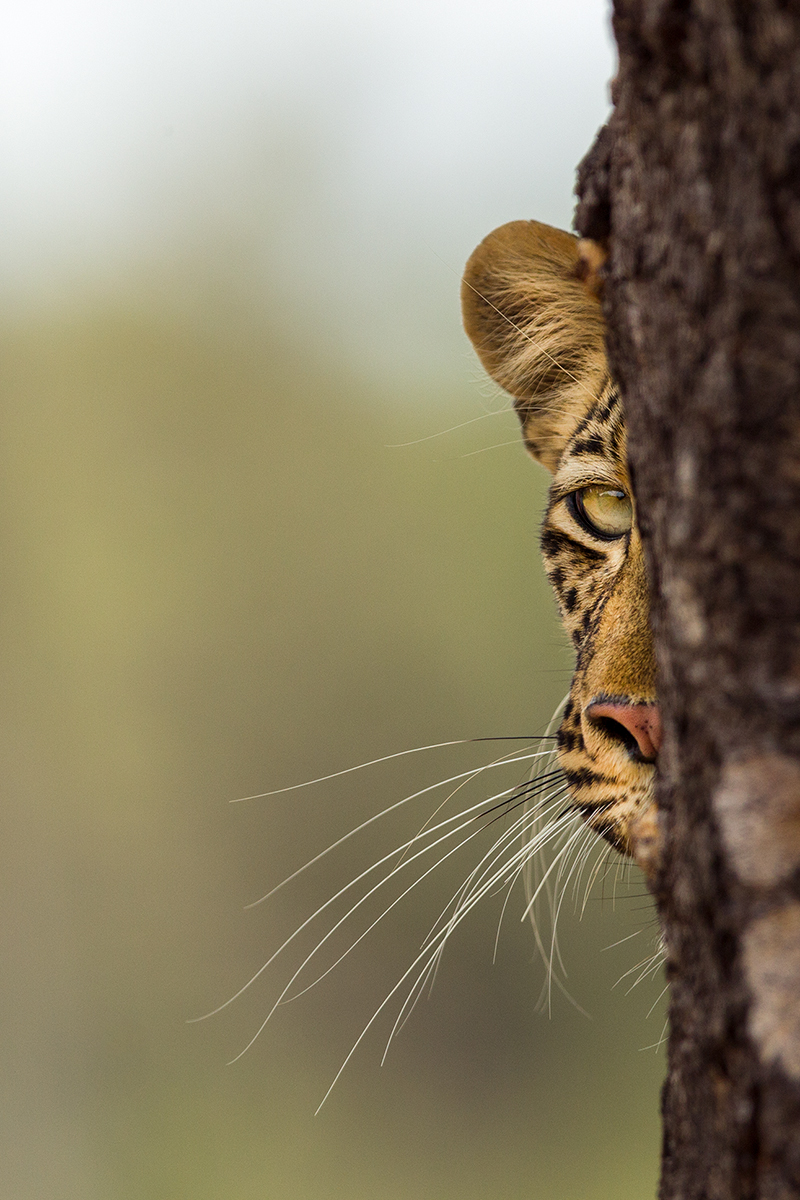 Peek-a-Boo
DESCRIPTION
This picture has been taken in Botswana, Africa. Early morning we spotted this leopard, a creation of unparalleled beauty. We were lucky as it is very difficult to track this elusive animal. As we love getting up close and personal and capture the spirit of wildlife, we decided to follow her as long as possible. She climbed up a tree, hiding and sleeping and we waited patiently. It is really all about being patient and passionate, respect and being in harmony with the animals and their natural environment.
After a while, we were getting hungry and decided to eat our breakfast in the jeep. I didn't know that a simple hard-boiled egg, a muffin and a cup of coffee could taste so delicious in the bush. The waiting game was still on. We sat in complete silence.
Around noon she was getting more active, decided to leave the protective surroundings of the tree. She stood and stretched, raking her claws on the bark, then slid headfirst down the trunk in a single fluid movement. She stopped and through the dense foliage I picked out a pair of eyes staring curiously. She was investigating our jeep which was parked at a safe distance as we do not want to disturb or alter her behavior giving her enough space and comfort.
She stopped again a bit further behind a tree, always keeping an eye on us. That is why I call this picture "Peek-a-Boo". During the afternoon, she made attempts to catch an impala, but failed.
It was a huge privilege to spend a day with this gorgeous cat and I'll never forget looking into this leopard's eyes. She showed us a day out of her life and my hands shook with excitement when I realized one of my favorite pictures.
AUTHOR
My name is Karin Van Couwenberg and I live in Antwerp, situated in the northern part of Belgium. For me, nature and wildlife photography started simply as a way to record my adventures and trips so I could remember and revisit them for years to come. What started as an afterthought gradually evolved into a consuming passion.
GREAT NEWS: our third book, The Magic of Life is ready! Please go to www.wildlife-photography.be if you would like to order. (40 euro per book + extra shipment costs)
We thank Jane Goodall for the foreword, her support and wisdom that we will never forget, reminding us that every little bit counts. Proceeds from this book will go to the Jane Goodall "Roots & Shoots" Foundation as well as "Tchimpounga Chimpanzee rehabilitation Center".
Our third book is a tribute to the wildlife and the beauty of our Earth. As Wildlife photographers, it is our duty to use the power of the visual storytelling and share the beauty that we encounter. We are bringing a compilation of photos taken in various regions such as Botswana, Yellowstone, Belgium, United Kingdom, Alaska, Finland, Norway, … to raise awareness about the importance of protecting environment, fauna and flora on our Planet Earth.
We wanted to reduce the costs as much as possible and this is also the reason why the book will only be available from our websites, social media and via private distribution.
The book consists of 200 pages, full color and printed on premium paper, measurements 24 cm x 30 cm and with a hardcover and image wrap.
I hope you'll enjoy my photographs and don't forget to visit my website from time to time because it will be updated on a regular basis. Thank you for taking this journey with me today.