Honorable Mention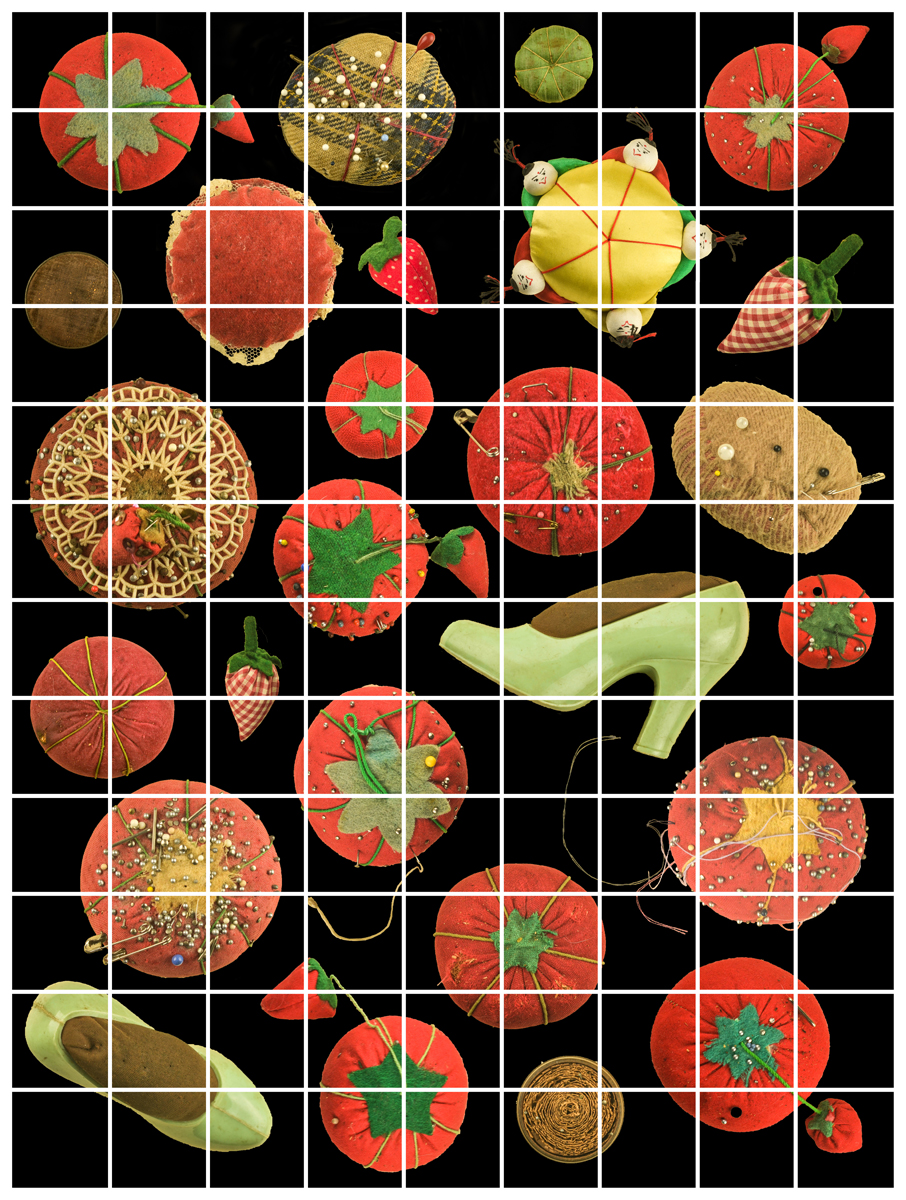 Pushpins
DESCRIPTION
What Lies Within:the Eclectic Collections of Andrea Noel
Who knew that within this quiet home covered with wisteria, located in a small town in southern Georgia that there lies the most eclectic collections of a very unique woman, Andrea
Noel.
I had no idea the magnitude of items when I first started photographing them over 6 years ago. When I ask Andrea about doing this project she presented me with an envelope that contained a sheet of notebook paper filled, listing over 60 different collections. And so began an interesting discovery of the collector's world.
Starting with bottle caps and matchbooks as a child the collections have exploded into so many different directions. There are dollhouses, Barbies and dolls of all sizes . There are wetters, corn holders, kitchen utensils, pin cushions and a wide assortment of shoe shine boxes. There are shoe boxes filled with postcardsthat are alphabetized by state or country. Some of the more unusual items are bed pans and urinals (pre-plastic), as well as broken silverware and eyeglasses. There is a wide array of discarded metal ranging from her precious metal to the heavy metal which includes a small anchor. And the list goes on and on.
Andrea can see something special in each of her over collections. And being a Luddite, she feels that it is her way to connect with people, past and present. The breadth of all that Andrea has seems endless and she has added new collections to the list since we have started our venture. Her collections are a time capsule of items. I have learned a lot through this experience plus I have established an enduring friendship.
"Collecting is a curious vice, it changes your whole life— your whole way of looking at the world." Samuel J. Wagstaff Jr.
AUTHOR
Dale Niles is a Georgia based artist born in Norfolk, Virginia. She is known for her diverse photographic interpretations from her black/white and color photographs to her montage storytelling collage photographs.
She received her BA in sociology from Lenoir Rhyne College in Hickory, NC. Upon graduation she interned as a probation officer but realized this was not her calling. While doing several other vocations she continued her personnel interests which included painting, sculpting and photography, realizing that photography was her art
of choice.
She has exhibited across the United States, Canada and Venice, Italy. Horace Williams House in Chapel Hill, NC; Brickworks Gallery in Atlanta, GA; and Cochran Gallery in LaGrange, GA. Her works are part of the permanent collections at MOCA GA. She has had work exhibited at Rfotofolio's Depth of Field Exhibition-Center for Photographic Art, Carmel, CA, Civic Center-South Bend, Indiana and Mayo Clinic in Jacksonville, FL.
Niles has been featured in publications including Light and Shadow Magazine, SXSE Magazine, Shots, ​Lenscratch, The Hand Magazine and Oxford America.
​
2019-2020, a selection of work exhibited at Mayo Clinic in Jacksonville, Florida; selected for Critical Mass Top 200, 2018 ACP Ones To Watch, the Fence, Atlanta International Airport and the Virginia Twainam Smith Purchase award.