Honorable Mention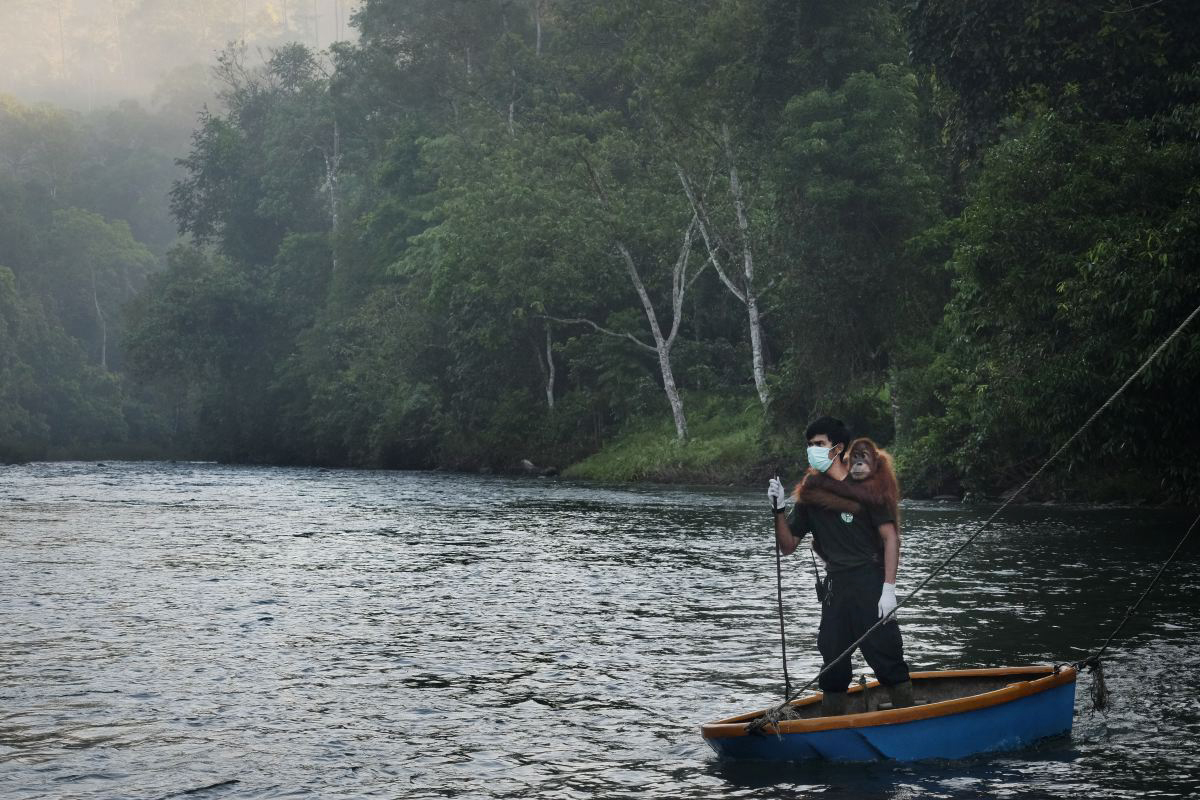 Saving Orangutans 6
DESCRIPTION
Indonesia, Sumatra, Aceh province, Jantho Reintroduction Centre located in the Jantho Pine Forest Nature Reserve.
At dawn, veterinarian Pandu crosses the Krueng Aceh river in a small boat carrying Diana, an 8-year-old female orangutan, for a final release. But this is not Diana's first attempt. Five years ago in 2014, she was released unsuccessfully having to return several times to the SOCP Quarantine Centre in Sibolangit for a variety of ailments. Having been domesticated, Diana had difficulty adjusting to forest food and on her last visit to the clinic, they discovered she had Malaria (an extremely dangerous illness for an orangutan) that required a blood transfusion. Since, she has been on a strict diet of leaves but it remains to be seen if she will successfully adapt to the jungle this time.
In order to follow and monitor orangutan behavior, caregivers and other staff have to develop bonds of trust with the animals. By always maintaining a safe distance and only observing, never getting too close, the orangutans get used to seeing the humans.
The goal of the Jantho Reintroduction Centre is to establish a new, wild and sustainable Sumatran orangutan population within the Jantho Pine Forest Nature Reserve. Since 2011, over 100 orangutans have been released back into their natural habitat and several new births have been recorded.
General caption:
Indonesia's Sumatran orangutan is under severe threat from the incessant and ongoing depletion and fragmentation of the rainforest.  As palm oil and rubber plantations, logging, road construction, mining, hunting and other development continue to proliferate, orangutans are being forced out of their natural rainforest habitat. 
Organizations like the OIC (Orangutan Information Center) and their immediate response team HOCRU (Human Orangutan Conflict Response Unit), rescue orangutans in difficulty (lost, injured, captive...) while the SOCP (Sumatran Orangutan Conservation Programme) cares for,
AUTHOR
Alain Schroeder is a Belgian photojournalist born in 1955. In 1989 he founded Reporters (http://www.reporters.be), a well-known photo agency in Belgium. He has illustrated over thirty books dedicated to China, Persia, the Renaissance, Ancient Rome, the Gardens of Europe, Thailand, Tuscany, Crete, Vietnam, Budapest, Venice, the Abbeys of Europe, Natural Sites of Europe, etc.  Belgian titles include, « Le Carnaval de Binche vu par 30 Photographes », and « Processions de Foi, Les Marches de l'Entre-Sambre-et-Meuse ». Publications include National Geographic, Geo, Paris-Match,… He has won many international awards and participated in numerous exhibitions worldwide. He is represented in Belgium by Reporters and in Paris by the photo agency HEMIS.