Honorable Mention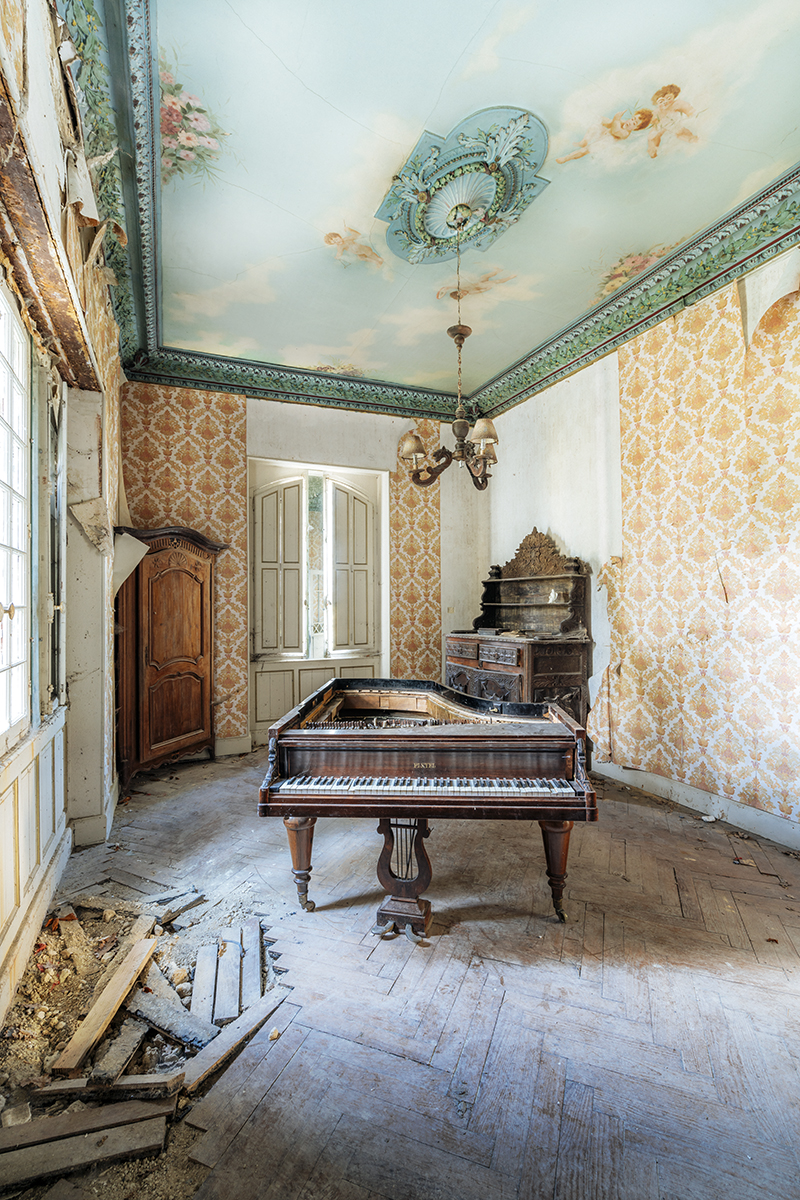 REQUIEM POUR PIANOS
DESCRIPTION
What remains of their finery ? Blown away marble, disemboweled fireplaces, torn hangings...
Faced with Romain Thiery's lens, these great houses have lost their glory. However, lurking in the shadows, astonishing wood and cast iron monsters with lacquered skin display their toothless smiles with ivory reflections. These pianos are the soul of the place, too heavy objects to be moved that the photographer unceasingly tracks down « even in the middle of a ruined space, the piano never ceases to preserve its power. He is there, he thrones with all his nobility. » The production of this series doesn't leave anything to chance. It offers Romain Thiery the privilege of combining two passions, image and music. Amateur pianist fulfilled by Chopin, Bach, Beethoven or Satie, he also observes his mother, a photographer, exploring the heritage of Périgord.
Romain Thiery sets out on a quest to find these silent giants. He spent five years patiently establishing his network across Europe into various sections including music, real estate, heritage and associations.
His dedication paid off. Since 2014, he has discovered more than a hundred pianos, in as many places of stunning beauty. Scenes from which he changes nothing, leaving the space as it is. The only thing that counts for him is to leave the pianos in their environment.
AUTHOR
Romain Thiery, a native of France who lives in Montpellier, is an artist photographer, born on 1988. Romain is an amateur pianist starting learning piano at the age of 5. Starting photography 10 years ago following the work of his mother specialized in heritage photography. That hobby turned into a passion and, a profession the day he found a forgotten piano in an abandoned castle in south of France.
Romain Thiery believes the piano is, in his own words, « Deeply rooted in the depths of our culture » and sought to explore the instrument from an original angle. He made his life's mission to combine his two biggest passions and set out to find abandoned mansions around Europe where old pianos had been left behind. His modus operanti would be to scout buildings with abandoned and often broken pianos inside and document them, standing like derelict yet graceful centerpieces within equally derelict interiors, ravaged by the merciless passing of time.
The series that emerged from Thiery's work is called « Requiem pour pianos ».