Honorable Mention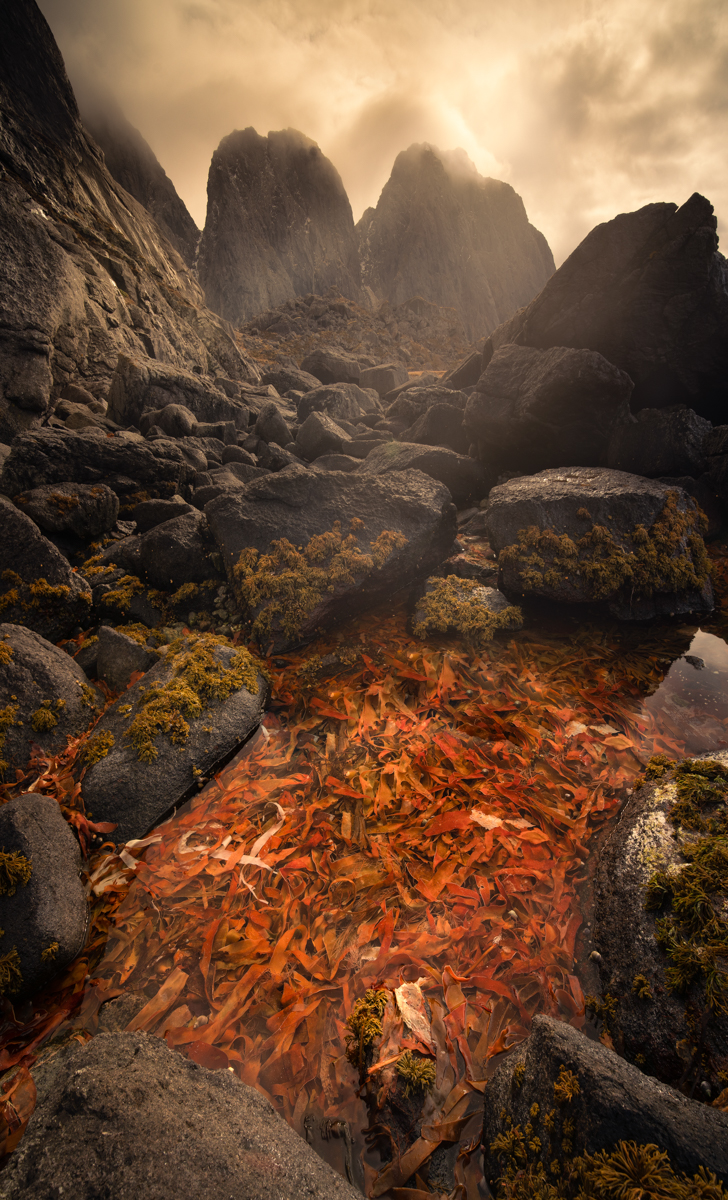 Autumnal Sea Bed
DESCRIPTION
Like dead leaves are carpeting the forest floor, the seaweed was covering the bottom sand, and the sky filled with warmth.
By reaching the southern - western side of Lofoten islands, I discovered a place and mountain range similar to The Mordor, only accessible by boat. It is an incredible area to put our feet on, filled with some of the most remarkable mountain ranges of Northern Norway.
Where you can drive your car on the Eastern side of the Lofoten Islands, and admire beautiful friendly mountain shapes, the landscape I met on the other side seemed unexplored and not made for humans.
It is the unwelcoming side of Lofoten.
I chose here a portrait shape to be able to catch this warm light casting through the rocks. By using a polarizer filter, I managed to enhance this amazing vibrance of the seaweed laying at the bottom of this pound, mimicking the late autumn forest floor.
AUTHOR
Virgil is from a small French town between Lyon and the Swiss border. From an early age, he always had a set of creative skills that has seen him through a vast array of mediums from cartoon illustration, electronic music production, and finally, photography.
In June 2011, with nothing more than a bag on his back, Virgil set out to explore the world and discover his passion for the great outdoors and photography.
Throughout this time, he has lived in 7 different countries: Australia, New Zealand, Czech Republic, Greece, Finland, Iceland, Norway, including Svalbard, the end of the world, and visited more than 37 others across five continents.
Virgil concentrates mainly on Arctic Landscape and Night Photography. It allows him to express his inner self and invite others to share in the spectacular and unyielding power of mother nature.
''Patience and creativity are all you need.''
Virgil is self-taught and believes in self-guided learning along with mutual knowledge sharing. His unending passion for photography and the outdoors pushes him to improve constantly, making photography part of his everyday life.
NorthernLights are a unique feature of his photography style and lead him to build robust and constructive compositions around them.
The photos you find in his gallery are the result of thousands of hours spent outside in snowstorms, strong winds, temperature extremes, long drives, great hikes, early mornings, late evenings, and a tremendous amount of time spent waiting on nature for that precise, extraordinary moment.
Virgil is always oriented on understanding his surroundings, finding the best angles for his compositions, and finding the right orientation to sublime the light in relation to his chosen subjects.