Honorable Mention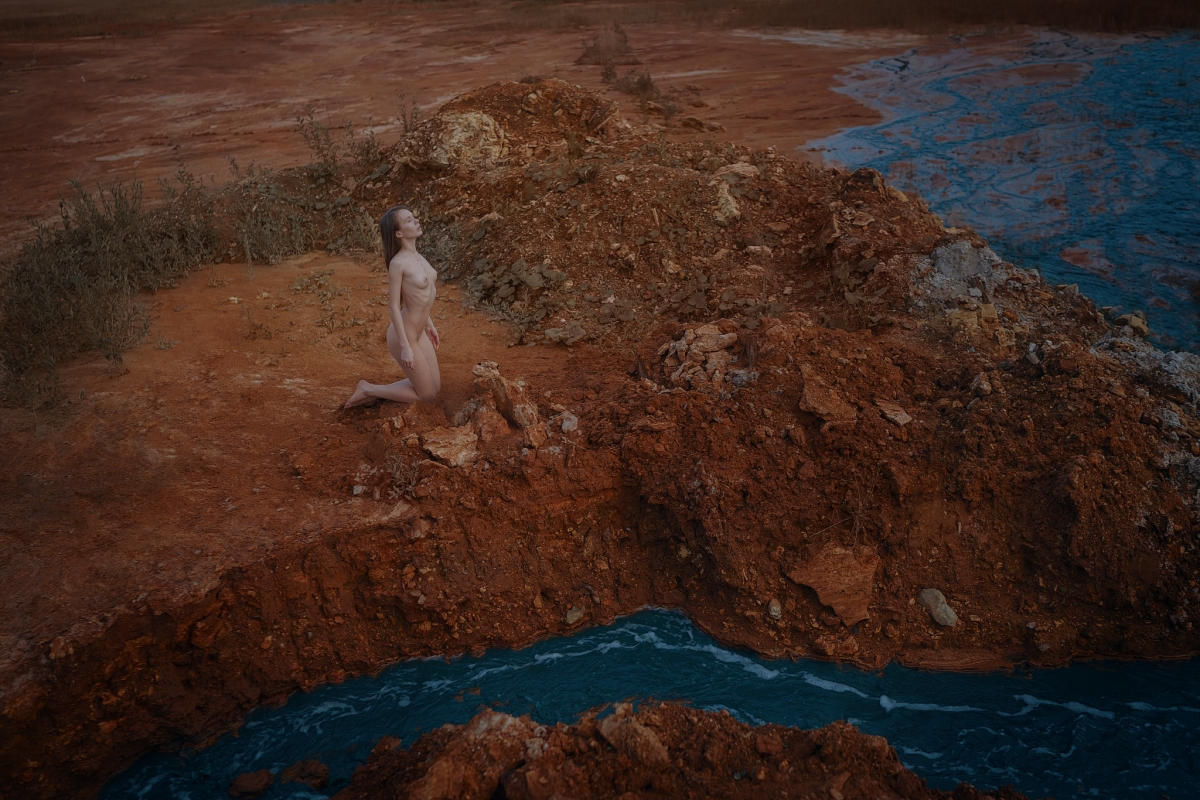 DESTRUCTION…
DESCRIPTION
A shot from the series of works "DESTRUCTION"
The Levikhinsky mine. Sverdlovsk region, Russia.
The mine has been abandoned and flooded since the beginning of the century. Water, mixing underground with copper pyrite (it has a high sulfur content) forms a mixture of sulfuric acid with large amounts of copper and other metals and all of this leaks out.
This water constantly pours out and comes up to the surface through layers of rock and they enter into a chemical reaction, oxidize and highly acidic streams, containing heavy metals begin to look for a slope and move along it.
The station was built at the mine (it seems to be dilapidated) to neutralize mine water with the help of lime, but it does not cope with the amount of work (lime mixes with acidic water and turns its color into light turquoise).
Then water flows into a sacrificial lagoon, where heavy metals and other harmful components should settle to the bottom, but it is full and needs to be cleaned.
Only some of the effluents are neutralized, but all of them are then released from this pond and move towards the Tagil River, and then enter the Lenevsky reservoir, which has been considered to be in trouble because of this mine.
After that, everything flows into the Tagil reservoir from which water is used for the hot water supply in Nizhny Tagil city.
AUTHOR
Anna Shuvalova – a photographer. Yekaterinburg. Russia
Born February 19, 1979 in Krasnoyarka, Sverdlovsk region.
Since 1996 up to now – has been lived in Yekaterinburg.
2001 – graduated from the Ural State Forest and Engineering Academy.
2016 - Ilya Strokov's photo school, Yekaterinburg, completed a professinal course.
2018- took the second place in Pinup 35awards competition,
Since 2018 up to now has had more than 50 publications in different international magazines: NUVU Magazine, Mob Journal, BOUDOIR INSPIRATION, Féroce Magazine, Nfm Magazine, NUDE Magazine, MALVIE Magazine, ELEGANT Magazine, Luxia Magazine, CREATIV Magazine, Picton Magazine and others, including four covers.
2020, March - participated in the exhibition BICFP ROME EXPO" in Rome (Italy)
2020, November - participated in the exhibition W&P Gallery by want&paint Co, Moscow
2020 - the winner of the competition 35 awards 2020 in the category Nude 18+. Among Top 100 Nude Photographers and Top 100 Russian photographers.
2020 - got the second place in the WPE international photographers awards, Annual Final 2020 - Fine Art Nude