Honorable Mention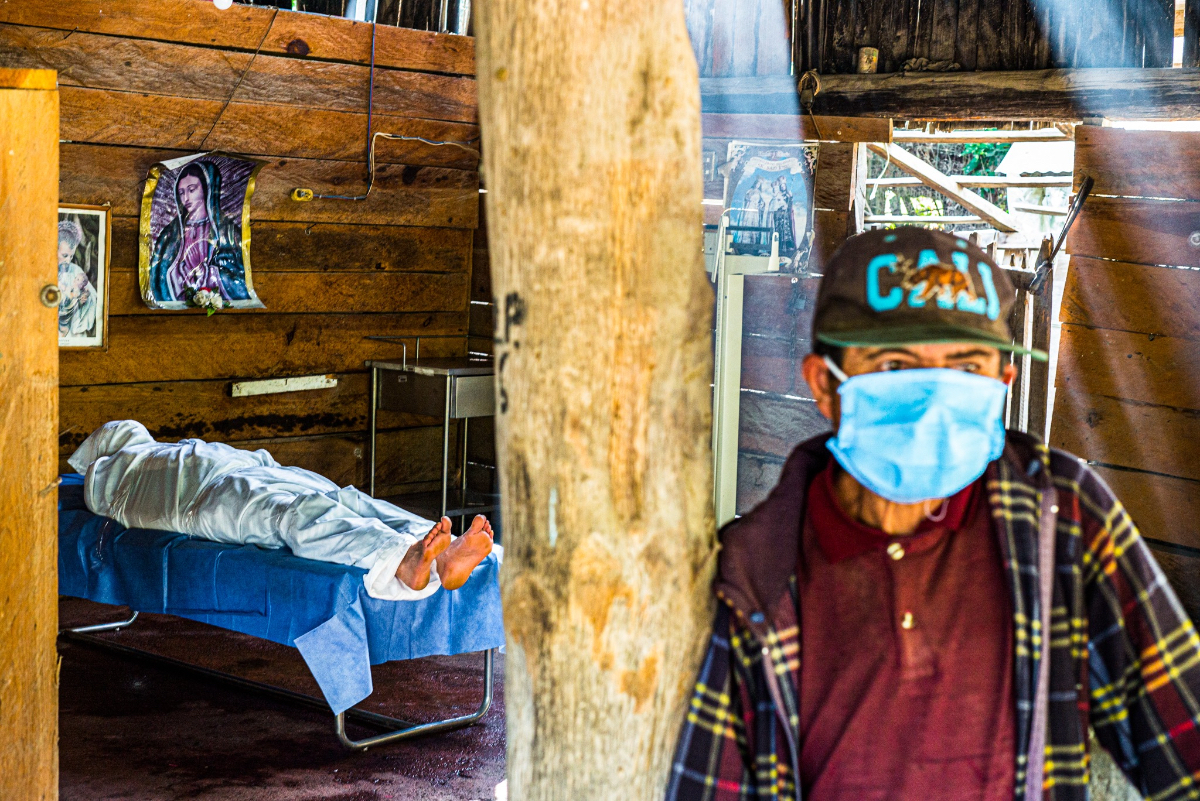 Hope and death in the same place. A patient awaits his turn in the anteroom of death, accompanied by rays of light that bring him renewed hope.
DESCRIPTION
Abandonment and rural death by Covid-19 somewhere in Latin America.
The inadequate transformation of a rural cottage to respond to the challenges of Covid-19. Desolation and sadness captured through the lens of my camera. A contrast of light and shadow, life and mystery, shelves full of empty hopes and desks without notebooks and pens.
Life is only provided by rays of light that penetrate through holes created by time and neglect in the wooden ceilings. A gallery of images made of saints and virgins populate some of the walls, invoking protection and shelter.
Exhausted and tireless, with a soul full of medicines, a nurse or a doctor approaches the sick, empty handed.
Time runs in the makeshift waiting rooms, gloomy and sad, welcoming patients and the sick, hoping that a miracle will come to that wooden cabin.
A life story on the edge, at the border of pain and hopelessness, the resistance of each day, where everything, except death, is improvised. The rural world where the virus arrived much earlier and faster than the cure and the organized response. Where medicines, utensils, recipes and doctors like Brutus and Cassius in the work of Tiberius "are conspicuous by their absence".
A part of the world where smoke, clouds, daylight and shortages conspire to create a unique landscape that brings the sinister closer and takes us away from everything, and the rest.
A picture of a dead person whose only elements are a sheet that wraps him, a cot that supports him, and a ray of light that protects him
AUTHOR
I like to travel and encounter the world with its streets and its people, but the part that corresponds
to my interest, my vision and philosophy of life. My photos are a look at someone's world, a journey
into their space and their life; an attempt to build a story without affection, as part of a social
commitment.
The photos are the expression of my intuition, perhaps of my desires, my own synthesis of the world
condensed in a moment. I hope these images arouse more suspicions than certainties in a way that
is possible to speculate with them to open paths of contrasting narratives.
I present different visual stories that intersect in the streets and in their plurality create a certain
connection; a new sense. These images can be regard, a hand, a detail or a full scene; a fixed
temporality that captures movement.
My images aim to reunite us with the common man, using a simple visual grammar that reveals the
value of the everyday hidden life. Images that are the time of the people and the people in their
time.
I like to walk around the city and photograph what spontaneously appears, but not all, a piece of
landscape and the reality and the fiction that goes with it. The characters are always taken by
surprise and thus do not influence their own representation. Walk and learn about the narrative that the space contains, finding a storm of things, a ship wreck of ideas, a unique grammar of the city. Walk without a script to rewrite a monograph of the place with my steps, periods and images. Catch lights and shadows of the twilight that escapes little by little through the camera.