Honorable Mention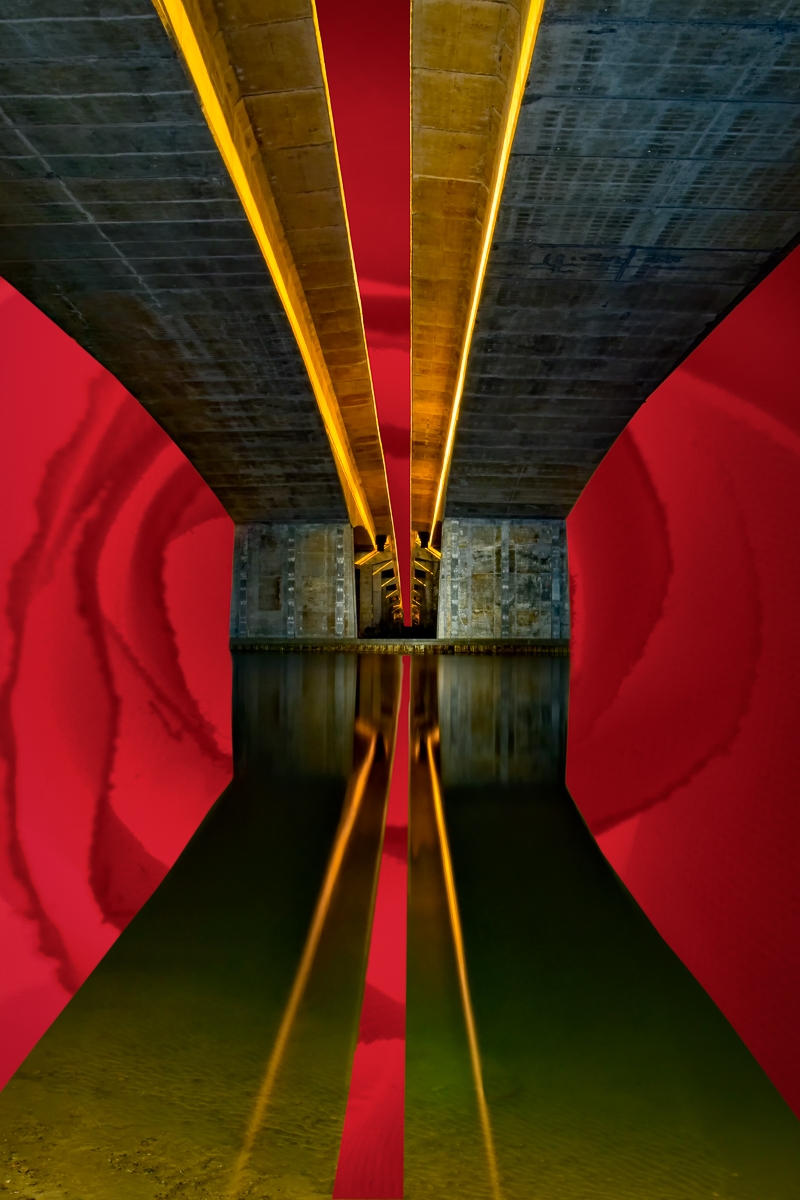 Androgynous
DESCRIPTION
I explore nature areas and nearby places – mainly in Texas – at night and its border zones with light painting photography. I call that meta-series (composed of subseries) "Vibrant Night" both for its surreal colors and because I often sense an illusion of animism in things (which I see as symbolic of the Gaia environmental theory.)
My new study from "The 'Nature' of Bridges," an adjunct series to "Vibrant Night," explores animistic identity by adding symbolic photomontage/ compositing to certain bridge images. This technique and the title of that study (The Nature of Bridges: Personality) provide the context to cognitively reframe (see in a different "light") other bridge images in the study as also animistic or symbolic. Moreover, it asks viewers to imagine what type of personality or trait each bridge image might represent to them.
My own interpretation of the current image, "Androgynous," springs from my background as a retired psychologist and perhaps from my recent reading of "Sexual Personae" by Camille Paglia, one of the great "second-wave" feminists. Also, it is the climactic image of a 3 image subset contained in my aforementioned study (viewable at www.LensCulture.com/ron-levy) – one that relates to the overcoming of oppression and self-suppression. (The first two images, show a flower imprisoned, then one held deep within the depths of a dominant bridge's substructure.)
I also like that this might add a fresh dimension to the concept of architectural photography.
AUTHOR
Ron S. Levy is a fine art landscape photographer, residing in Houston, Texas, who currently specializes in night photography using "light painting." A graduate of Amherst College with a B.A. and University of Rochester with a Ph.D., Ron has studied photography on his own to this day.
His main light painting body-of-work since 2013, "Vibrant Night: Light Painting Landscapes" typically explores nature areas in Texas (mainly) at night and its "border" zones. He uses long exposures, lights of different color temperatures, and extensive post-processing to convey what was in his mind's eye. Conceptually, the work embraces the value of "cognitive reframing" (ie., seeing things "in a different light.") Major subseries include "Abstract Beings in Nature," "Gravel Pits and Such," "Ponds of Stone," "The Mountains of East Texas (There Are No Mountains in East Texas)," plus limited studies (e.g. "Contemplated Journeys of Immobile Objects," and an extensive adjunct series, "The Nature of Bridges." Samples from some of these might be seen here; nearly all belong to his encompassing body-of-work, regardless of entry category. Full series, variations, and artist statements can be found on his portfolio site, www.LensCulture.com/ron-levy.