Honorable Mention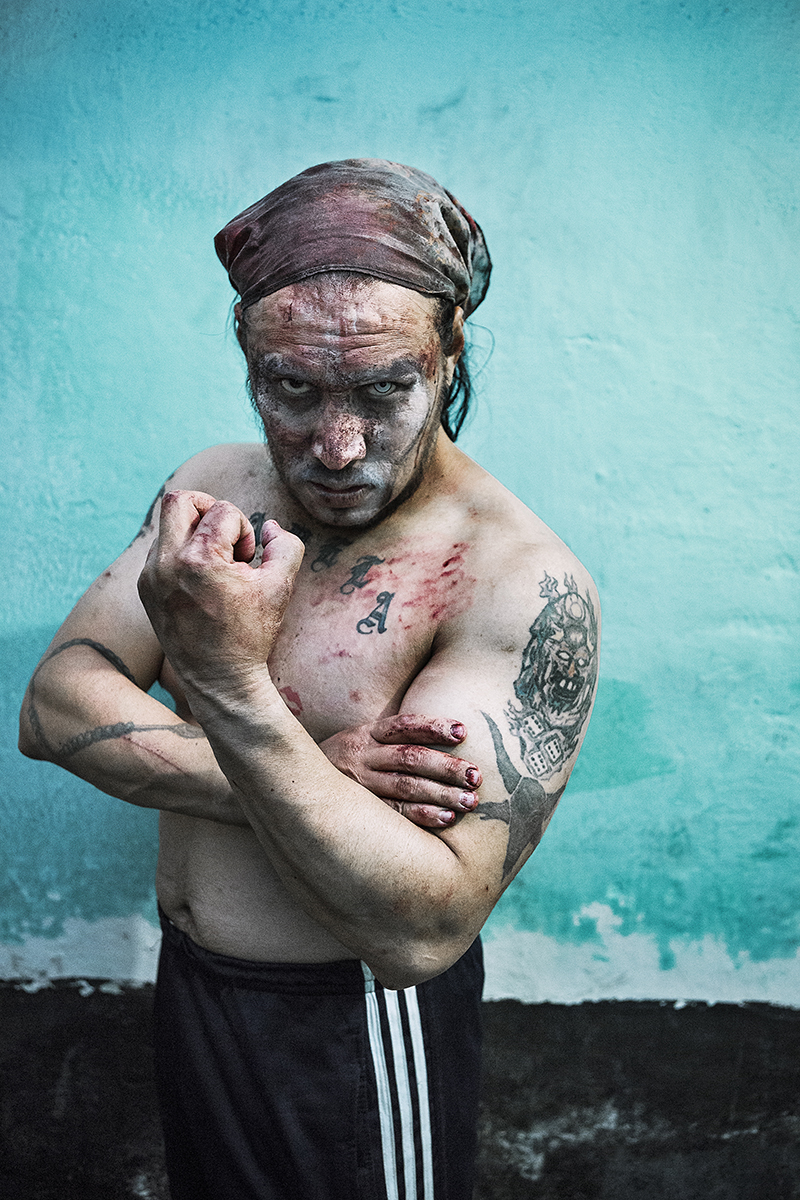 Lucha Libre Extrema
DESCRIPTION
The Lucha Libre Extrema series emerged from a growing interest I had in Mexican professional wrestling. I was soon drawn towards sub-genres of the sport such as Lucha Libre Exótica and Lucha Extrema. This semi-clandestine hardcore genre is currently prohibited in Mexico City because of how dangerous it is, but events still take place outside the capital, notably at a car wash-turned-arena in Tulancingo, the village where El Santo, Mexico's most famous pro wrestler, was born. The participants receive professional training and are paid a little bit more because of the risks they take. They perform with a variety of weapons: chairs, thumbtacks, wire, and fluorescent lights, turning the ring into a war zone. Yet the community of luchadores "extremos" is closely knit and few outsiders have gained access. Mexico has been a very violent place in recent years. As such, I found it fascinating that people were drawn to the dangerous world of Lucha Libre Extrema and turned my camera to the audience in an attempt to understand their reasons.
AUTHOR
BIO
Annick Donkers is a documentary photographer from Antwerp, Belgium. After obtaining a Masters´ degree in Psychology, she decided to specialize in photography. She has received a grant from the Mexican Ministry of Foreign Affairs in 2008 and was selected to participate in the 2008 Seminar on Contemporary Photography at the Centro de la Imagen in Mexico City. Her work has been exhibited and published internationally. She was one of the winners at the Survival International Competition (2015), won an award at the San José Photo Festival in Uruguay (2016), at the Sony Awards in UK (2016), the MIFA awards in Russia (2016), the IPA awards in USA (2016), the TIFA awards in Tokyo (2016). She received an honorable mention at the Px3 Prix de la Photo in Paris (2016), was selected at Latin American Photography vol.5/vol.6/vol.7 in New York (2016, 2017,2018) and for the cover of Dodho magazine in Spain (2016). She was on the Shortlist for the Kolga Awards in Tbilisi, Georgia and Athens Photofestival in Greece (2017), received the Premio Pedro Meyer at the Contest for Contemporary Photography in Mexico (2017), an honorable mention at ND Awards and Chromatic Awards (2017), was the winner of the 2017 Color Prize of Dodho Magazine in Spain, winner of the IPOTY Awards (2018) and has been selected to participate at Addis Fotofest in Ethiopia (2018).
She currently lives and works as a freelance photographer in Mexico City.
www.annickdonkers.com
annickdonkers.blogspot.mx