Honorable Mention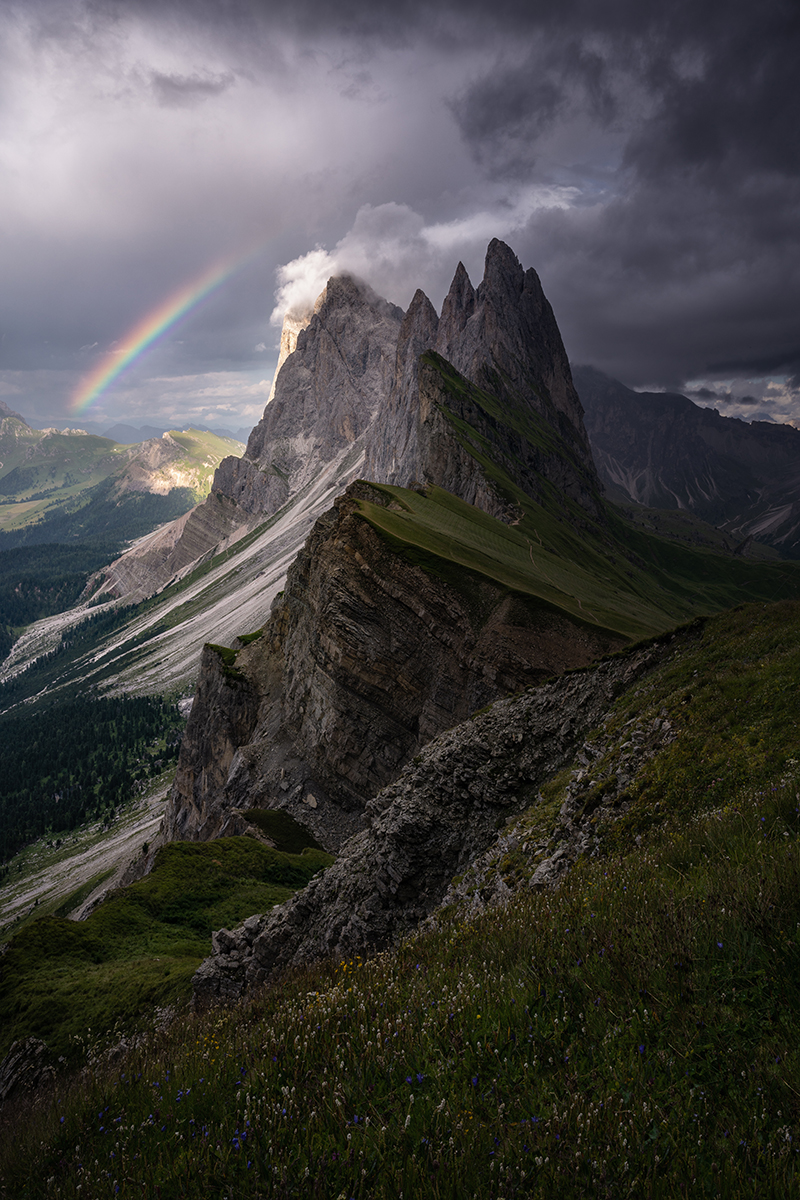 the light after the storm
DESCRIPTION
I was in the Dolomites, precisely from seceda, 2500mtr . After a thunderstorm that was forcing me to take cover, the sky opened up a little bit and suddenly this rainbow.
AUTHOR
I'M ANDREA ZAPPIA, I WAS BORN ON AUGUST 15, 1989 IN GENOA, A BEAUTIFUL MARITIME CITY.
I GRADUATED AS AN ELECTRONIC TECHNICIAN AND NOW I WORK AS A CAR TECHNICIAN AS MY MAIN JOB.
SINCE MY CHILDHOOD I HAVE ALWAYS BEEN IN LOVE WITH THE SEA WHICH IS A RECURRING SUBJECT IN MY PHOTOS.
A FEW YEARS AGO I STARTED TAKING PICTURES OF EVERYTHING WITH MY FIRST REFLEX CAMERA, A NIKON D3200, AND I BECAME PASSIONATE ABOUT PHOTOGRAPHY.
AS TIME PASSED I DECIDED TO START MAKING LANDSCAPE PHOTOGRAPHY BECAUSE I WAS AMAZED BY THE WORK OF THE PROFESSIONALS. I WANTED IT TO BE MY SPECIALIZATION.I STARTED READING BOOKS, WATCHING TUTORIALS, STUDYING THE SHOTS OF THE MASTERS AND I TOOK EVERY MISTAKE I MADE AS A LESSON.
TIME, PASSION AND PERSEVERATION LED ME TO MY FIRST RESULTS.
I BECAME ABLE TO RECOGNIZE THE BEST HOURS OF THE DAY TO SHOOT, WHEN THE LIGHT IS SOFTER. I STARTED TO MASTER THE TECHNIQUES I HAD TO USE IN THE FIELD BASED ON THE WEATHER. MY EYE BECAME TRAINED TO OBSERVE THE MOVEMENT OF THE CLOUDS AND THE COMPOSITION OF THE SHOT IN ORDER TO REVEAL THE BEAUTY OF THE LANDSCAPE.I PUT A LOT OF ATTENTION IN THE POST PRODUCTION PROCESS BY ADJUSTING COLOURS AND EMPHASIZING IMPORTANT DETAILS.
I'M PASSIONATE ABOUT NATURE AND LONG EXPOSURE, THE TECHNIQUE I USE THE MOST.