Honorable Mention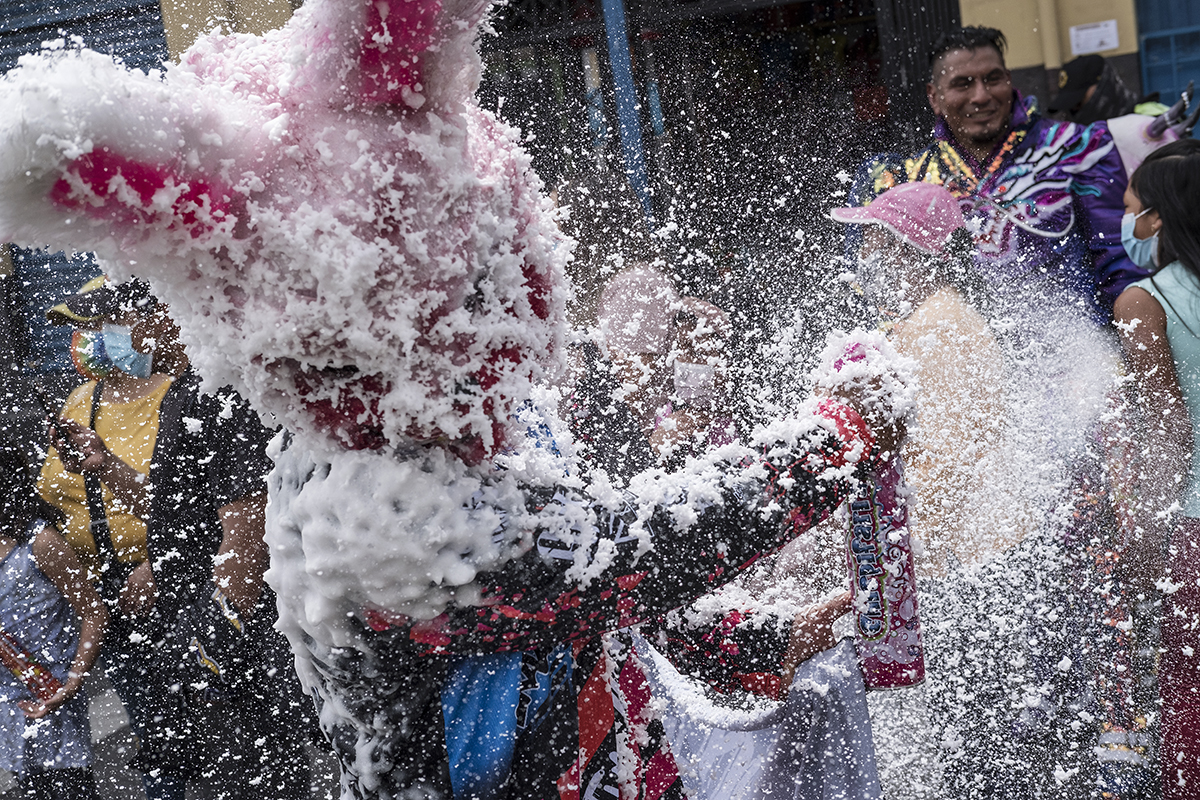 Carnival lather battle in Quito, Ecuador
DESCRIPTION
The carnival of Quito is a celebration that takes place every year in the capital of Ecuador, before Ash Wednesday and generally between February and March.
This is one of the largest celebrations of the city that involves each of the neighborhoods and districts of Quito, especially in Parroquia Yaruquí, Cumbayá, El Quinche, Amaguaña, Puéllaro and the Casco Histórico.
Here celebrates carnivals in a big way and commemorates all the cultural diversity found in the region, giving way to a wide variety of dances and masks.
Carnival in Quito and in Ecuador have been celebrated before 1870, when people used the festivities to celebrate in a somewhat violent and offensive way, since the way carnivals were carried out was to throw stones, water, flour and eggshells with perfumed water.
In this way the carnival acquired a more violent tone and as the result many people were forced to stay at home even close doors and windows.
Later, the holidays evolved into less violent celebrations. People began to use serpentines, confetti and flowers. Although some pratices of playing with water and perfumed eggshells continued to exist, they were much less violent and more enjoyable. Later antifaces and masks began to emerge, with which they were part of scenes of humor and satire.
AUTHOR
Erberto Zani is an Italian freelance photographer and journalist.
Graduate at University of Parma in History of Arts, he spended several years as photographer in advertisement sector (1998-2004).
He worked as journalist and photographer for the newspaper Gazzetta di Parma (2004-2007) and as editor in chief for magazines Arim Salute, 2008-2011, Inedito Koppel, 2005-2015, Amurt Newsletter, 2008 - until today.
Freelance since 2008, most of his works are focused on documentary-humanitarian themes.
He cooperates with companies, magazines and No Profit Organizations, for photographs and editorial projects.
Member of Italian Order of Journalist (n.122388) since 2007.
Photography books designed and published:
Elemental fashion (2018), Exodus / Rohingya in Bangladesh (2018), Kied Pologo (2017), Aftermath (2016), Black World (2015), Maha Kumbh Mela (2014), Tsiry (2014), Babanagar-Colombia (2013), Sahel (2012), Hope (2011), Haiti, fragments (2010), Drops of Life (2010), Da Borgo San Donnino al Passo della Cisa (2006).