1st Place winner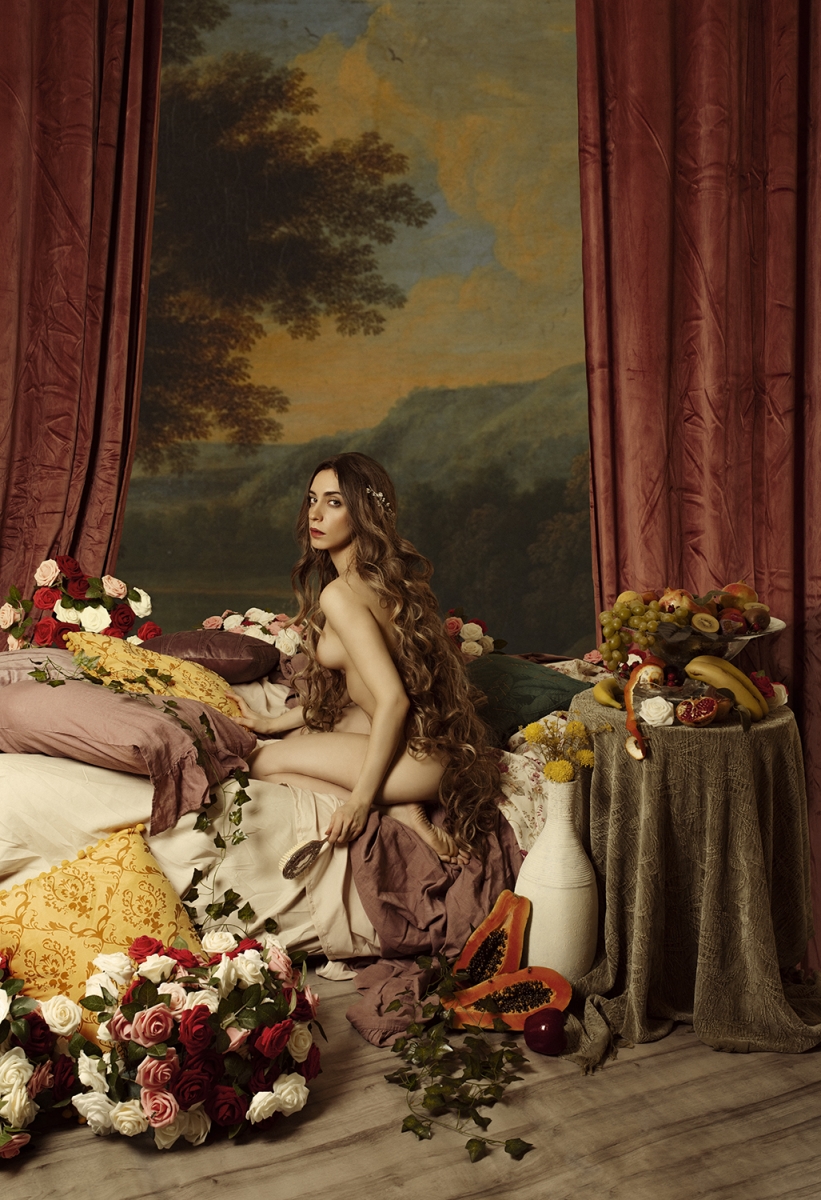 Rapunzel
DESCRIPTION
Inspired by Rapunzel fairytale. I never really loved Rapunzel's tale. It always seemed crazy to me for someone to hang onto her mane and climb up to the tower. I mean... Rapunzel had to bear the weight of the prince on her head for him to go see her and finally rescue her.
Sometimes I wonder if Rapunzel didn't have a choice... if she couldn't make a liana out of her own hair and save herself.
My favorite children's stories featured protagonists who saved themselves. With references such as Princess Xena, Nikita and Utena. Girls who fought without fear.
Even though, the idea of a woman with long hair is seductive, charming and it and undoubtedly evokes a certain romanticism.
Rapunzel is an art print of details, an artwork that involves months of preparation, months of finding the appropriate objects: an old hairbrush, a bed with many cushions that looks soft and comfortable. The indicated vase and a set up with colors that would work with the aesthetic that I had foreseen, a painterly look with a very warm light.
AUTHOR
Lídia Vives (Spain, 1991), established in Barcelona, is a photographer and visual artist who has seen her work published in magazines such as Esquire and Vogue Italy and has exhibited in numerous galleries, fairs and museums such as the Louvre in Paris. She has also collaborated with various musical groups, highlighting the Spanish band Love of Lesbian.
She has traveled around the world presenting her work since her first exhibition in 2013 and has received various international awards that have allowed her to expand her work worldwide, such as the gold medals in the Trierenberg Super Circuit, in 2018; the Fine Art Photographer of the Year of the Monochrome Awards, in 2021, and the Professional Photographer of the Year 2021 of the MUSE Photography Awards.
She currently works as an advertising and fashion photographer, as well as an artist, represented by ARTOUI Munich (Germany), selling her works of art to collectors, decorators and architects (among others), also as a retouching teacher at the IDEP school in Barcelona.
Strongly influenced by Italian Renaissance and Baroque artists, in addition to some of her contemporaries, Lídia's work is characterized by the use of color and the pictorial environment that she uses when dealing with current issues, using, only in her most personal projects, the self-portrait. She is also known for hiding Easter eggs in her photographs, inciting the viewer to see further into her work, thus making her images like a game in which the mission is to discover all the hidden secrets.